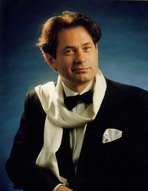 Pragniemy Panstwa/Was serdecznie zaprosic na szczegolne wydarzenie w Raminie: live koncert: "Najslynniejsze piesni z repertuaru Jana Kiepury" w wykonaniu polskiego tenora Piotra Czajkowskiego.

Koncert rozpocznie sie w niedziele 04 pazdziernika o godz. 16:00 w Dworku Ramin.
Prosimy o wczesniejsza rezerwacje biletow bezposrednio u nas (50,- zl).

Przy fortepianie akompaniuje Konstantin Nazarov.

Cieszymy sie bardzo na spotkanie z Panstwem/Wami!

Piotr Czajkowski -- Tenor
A liric spinto tenor was born in Warsaw. He continued his education by at Elsner Music School in Warsaw. Mr. Czajkowski has been a solist for many years at the Grand Theatre in Warsaw and made his debut in Moniuszko in the role of the Duchess of Dzidzi. After his appearance as solist in Warsaw, he appeared with numerous orchestras through Poland, and accompanied theater traveled through France, Russia, Germany, Belgium, Luxembourg, Israel and Turkey. Piotr participated in numerous festivals such as the Festival in Rennes, France, and in part in the European Music Festival in West Berlin. He has also appeared in four Polish films. He was the gold medal winner and a finalist in the 28th international voice competition in Verdi Busetto / s in Alessandro Maria Ziliani /.

Mr Czajkowski has great succes in roles of Alfredo in La Traviata, Macduff in Macbeth, as Cavaradossi in Tosca, enjoyed as Pinkerton in Madama Butterfly and has Placido Domingo, Lucia Aliberti, Juan Pons and Brenda Roberts singing partner.

Mr. Czajkowski made his U.S. in early 2000 and performed a concert that was sponsored by the Wagner Society of Dallas and Dallas Symphony Orchestra Guild.
Piotr Czajkowski studied with Irmgard Arnold in Berlin and Bruno Pola in Verona, Italy.